Administrators
In the module 'administrators' in the 1A-manager you can configure which users are allowed to log in on the 1A-manager.

Administrators are allowed to make adjustments in the 1A-manager. There can be one or more administrators.

It is also possible to define section admins. This can be done by granting users membership to special groups. They are allowed to log in on the Webmanager without having to be an actual Administrator. They are allowed access to the modules which belong to the groups they are a member of.

Requirements
To complete this manual, you will need:

A computer connected to your 1A-server
A username and password for the 1A-manager
Steps
1
Go to system → administrators
2
Add administrators
Select one or more users in the left column (keep the CTRL key pressed to select multiple users)
Click on the grey button with the arrows in it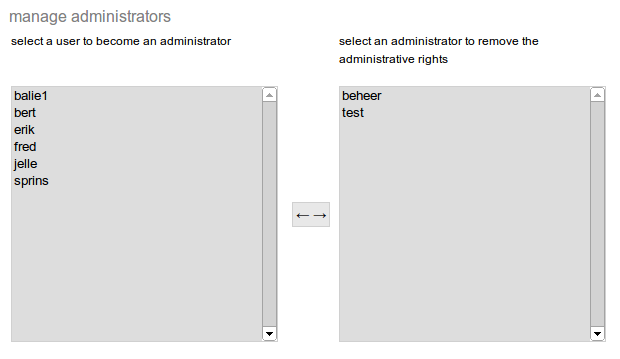 3
Remove administrators
Select one or more users in the right column (keep the CTRL key pressed to select multiple users)
Click on the grey button with the arrows in it
4
Deelbeheerders toevoegen
Go to start → groups
Go to add a group
At group name enter one of the following group names:

system admins → Users who have access to the modules in the 'system' category: (serverfunctions, serverinfo, network, quota, license) and the 'reverse proxy' module
share admins → Users who have access to the 'shares' module
printer admins → Users who have access to the 'printers' and 'printer queues' modules
email admins → Users who have access to the 'e-mail' module
ftp admins → Users who have access to the 'ftp' module
wwwfilter admins → Users who have access to the 'wwwfilter' module
voip admins → Users who have access to the 'telephony' module
fax admins → Users who have access to the 'fax' module
backup admins → Users who have access to the 'backup' and 'online backup' modules
unifi admins → Users who have access to the 'Unifi' module
vm admins → Users who have access to the 'VMs' module

Click add
Add the persons who should have this type of access
Repeat this step until you have placed all section admins in the correct groups