E-mail - Address
With the module 'e-mail' you can configure which e-mail addresses your organisation has and where e-mails to these addresses will be delivered.

You can also configure your spamfilter here: which sender addresses will always be blocked and which will always be delivered.

This page explains managing e-mail addresses.

Please keep in mind that when you create a user, that user's e-mail address will be automatically created. When you remove a user the accompanying e-mail address will be removed again. The user will also be removed from any other e-mail addresses it was added to.
Requirements
To complete this manual, you will need:

A computer connected to your 1A-server
A browser, for example Internet Explorer or Firefox
A username and password for the 1A-manager
Steps
1
Go to internet → e-mail
2
Add an e-mail address
Enter the name of the new e-mail address
Click add
Select the recipients in the table, or enter an external e-mail address below the table. If you want to allow sending e-mail from this address, you have to enable it here as well.
Click save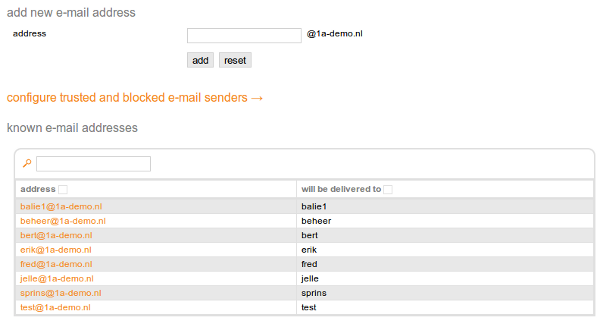 3
Modify an e-mail address
Click on the e-mail address you want to modify
Select the recipients in the table, or enter an external e-mail address below the table. If you want to allow sending e-mail from this address, you have to enable it here as well.
Click save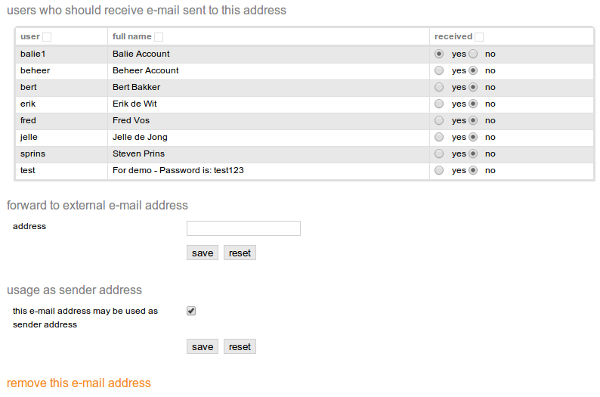 4
Delete an e-mail address
Click on the e-mail address you want to delete
At the bottom of the page, click remove this e-mail address