Users
The module ''users' in the 1A-manager allows you to create, modify, remove, import and export users.


The format of the username has certain restrictions. The 1A-manager will provide feedback if you enter invalid values
Users can also be added by importing them. This way larger amounts of users can be added at once. In order to do this, you have to prepare a 'Tab Separated Value' (.tsv) file.
The .tsv file requires a certain format. Your 1A-partner can assist you with this.
You can also export users to a 'Tab Separated Value' file.
Requirements
To complete this manual, you will need:

A computer connected to your 1A-server
A browser, for example Internet Explorer or Firefox
A username and password for the 1A-manager
Steps
2
Create user
Go to add a new user
Enter the username
Enter the surname
Click add
Enter the new password and confirm password
Click save
Adjust the settings as desired
Click save

3
Modify user
Click on the user you want to modify
Adjust the settings as desired
Click save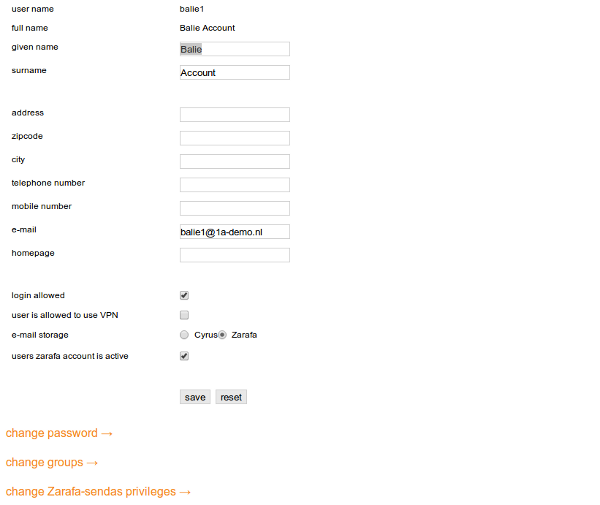 4
Remove user
Click on the user you want to remove
Check remove user account
Select what to do with the documents of this user
Click remove

5
Import users
Go to import/export
Click the file chooser at file
Choose the file to import
If you also want to create the e-mail addresses for the new users, check create e-mail address
Click check to verify the import file
Correct any errors and check again. Repeat until there are no errors.
Click import

6
Export users
Go to import/export
Click export