Import 1A root certificate - Windows XP
Microsoft has ceased security support for Windows XP on 8 April 2014. This means that PCs running Windows XP will no longer be safe to use.

Please contact your 1A partner to obtain a more recent operating system or a new PC.
This manual is for older systems and/or software and is no longer maintained.
This manual is meant for 1A-server users with a servername which ends in nl.alt001.com. This manual explains how you can install the alt001.com root certificate, so you can use the services on your 1A-server without certificate warnings.

Certificates are used to identify services and to encrypt the communication to and from the service. When a certificate is not trusted, this encryption will not work.

Every 1A-server contains an email server that accepts both encrypted and unencrypted connections. Because unencrypted servers are attacked more often, they will be phased out. Browsers also show a warning when an unknown certificate is used

Requirements
To complete this manual, you will need:

Local Administrator permissions on the computer on which you want to install the certificate.
Steps
1
Start the installation
Find the location where you downloaded the certificate
Right-click the certificate
Choose Install Certificate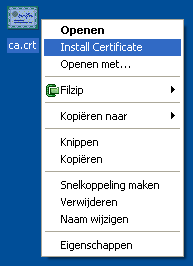 2
Wizard import Certificate (1)
Click Next
Choose Store all certificates in this archive
Click Browse...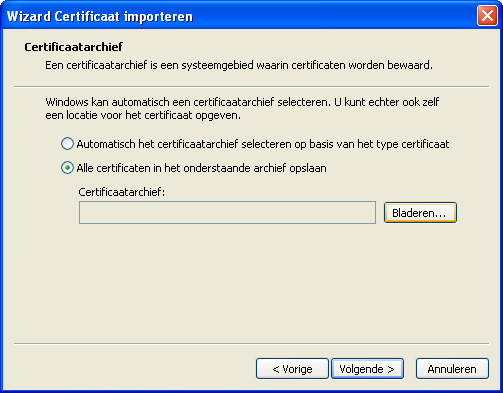 3
Choose a certificate archive
Choose the store Trusted Root Certification Authorities
Click OK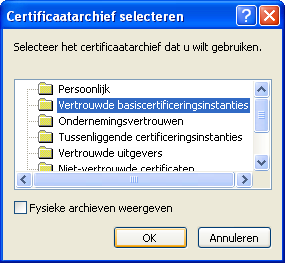 4
Wizard import Certificate (2)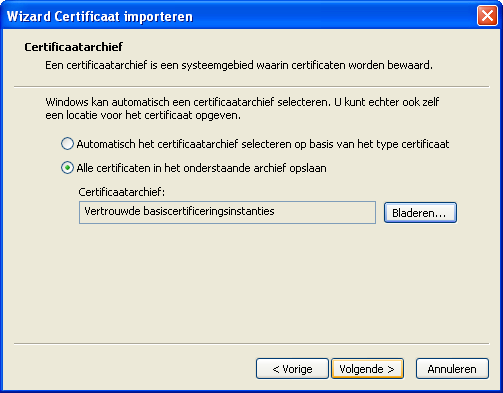 5
Complete certificate installation
Verify whether the key belongs to 1A First Alternative
Click Yes
Click OK