Setting up a VPN connection (IPsec) - Windows 10
This manual is meant for 1A-server users.
It explains how you can make a secure connection to your company's network.
This way you can use your company's network just as when you are connected directly.

To be able to connect, you have to be a member of the group 'vpn'. After that, you can create a connection with the steps below.

Requirements
To complete this manual, you will need:

The hostname of your 1A-server
Your username and password
Usage
1
Connect with VPN (1)
Click Start
Click Settings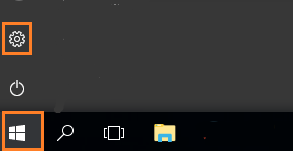 2
Connect with VPN (2)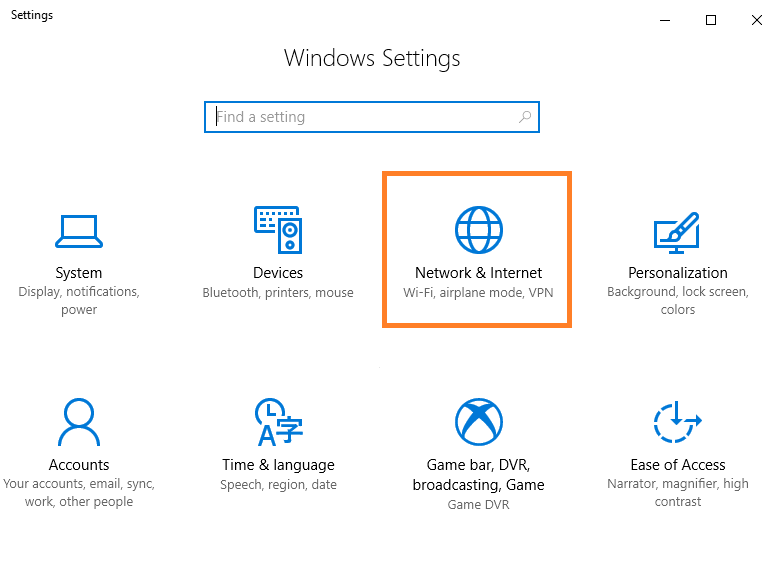 3
Connect with VPN (3)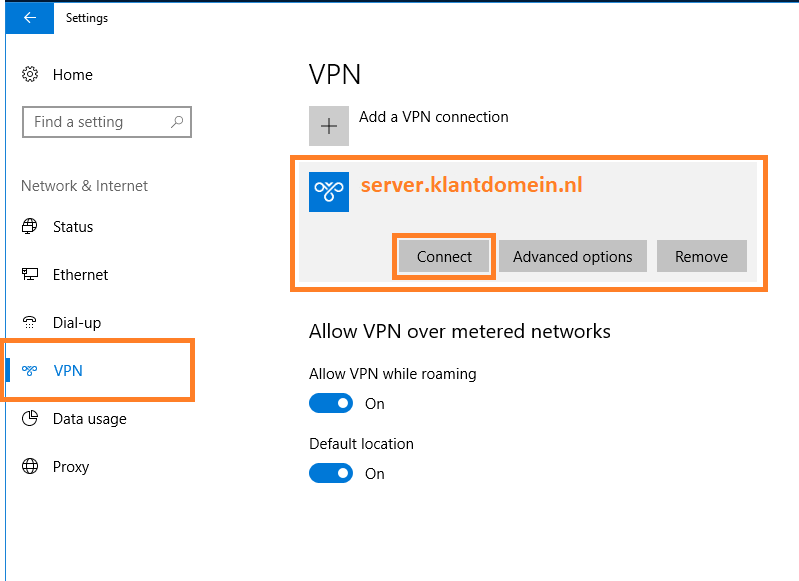 4
Connect with VPN (4)
Select the VPN-connection you want to use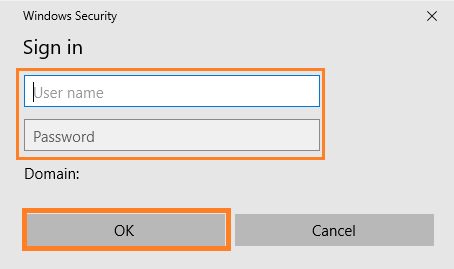 5
Connect with VPN (5)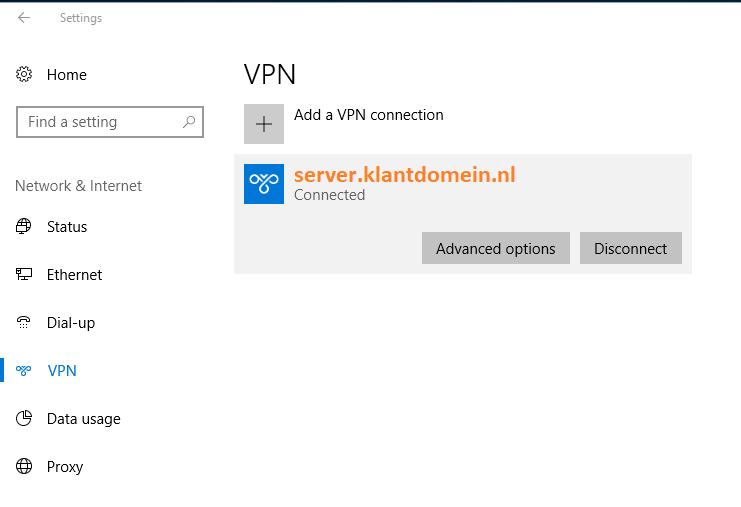 6
Authenticate
If your user data is not saved, please enter your Username and Password
Click OK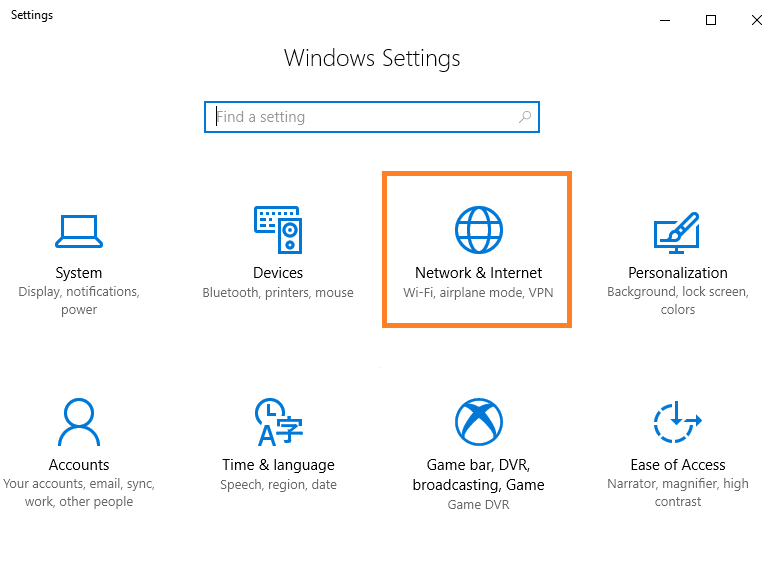 7
Connect with VPN (6)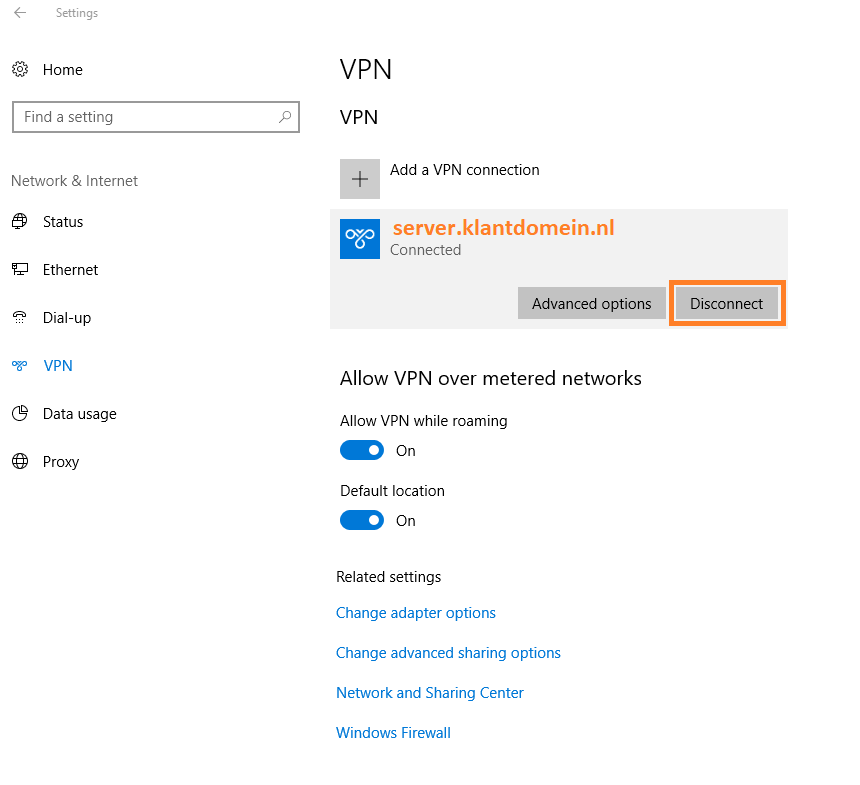 8
Disconnect VPN (1)
Click Start
Click Settings
Click Network & Internet
Click VPN
Click the VPN-connection you want to disconnect
9
Disconnect VPN (1)
Steps
1
Open Network properties (1)
Click Start
Click Settings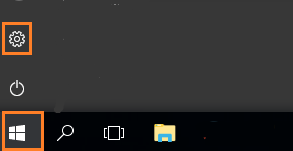 2
Open Network properties (2)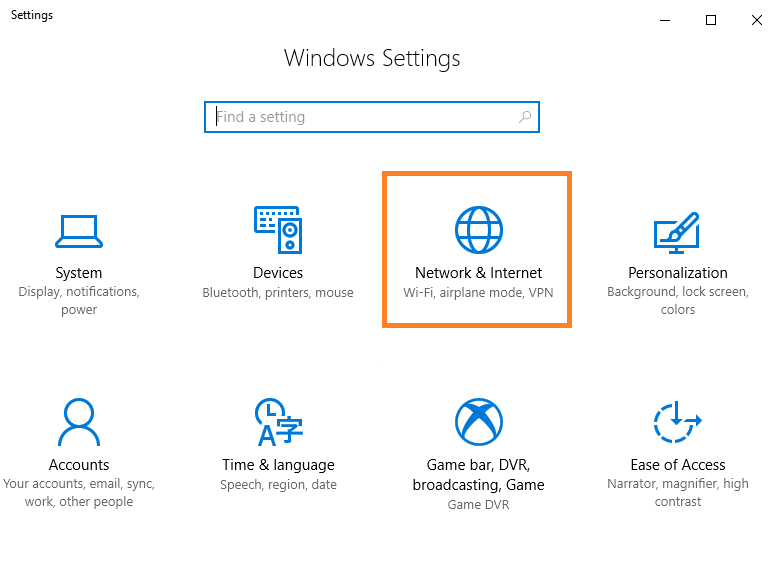 3
Open Network properties (3)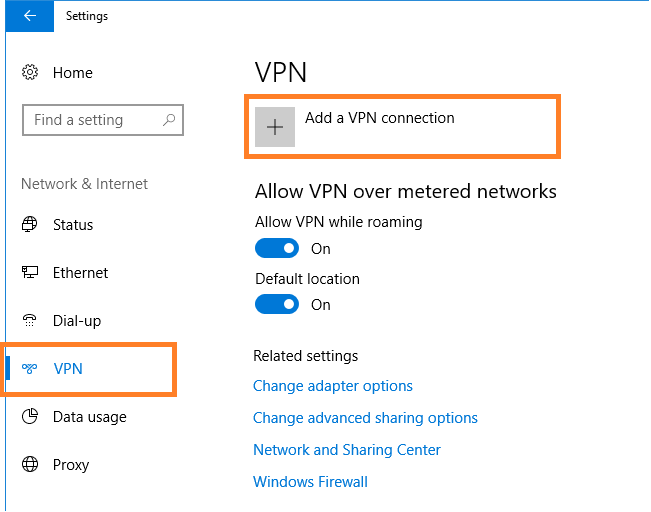 4
Create new VPN connection (4)
Click Add a VPN connection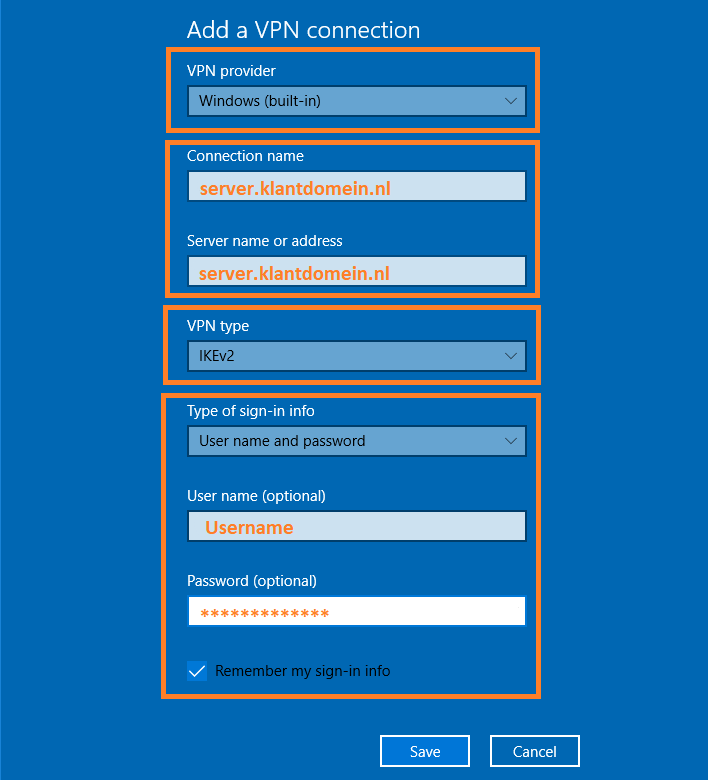 5
Create new VPN connection (5)
At VPN Provider, select Windows (built-in)
At Connection name, enter a name for the VPN-connection
At Server name or address, enter the hostname of your 1A-server
At VPN-Type, select IKEv2
At Type of sign-in info, choose Username and Password
Enter your Username and Password
If you want to save your credentials, check option Remember my sign-in info
Click Save
6
The new VPN connecion has been created
You can now use the VPN connection
Troubleshooting
1
Symptom: Cannot reach server by name
Cause: Some versions of Windows 10 never query the DNS from the VPN-connection
Solution: This can be resolved by changing a setting in the local network connection
2
Open Network properties (1)
Click Start
Click Settings
3
Open Network properties (2)
4
Change adapter settings
Click Change adapter settings
5
Open properties for your LAN connection
Right-click your LAN connection (This is often called Ethernet or WiFi)
Click Properties
6
Change IPv4 settings
In tab Network select IPv4 and open Properties
Click Advanced
Uncheck Automatic Metric
In field Interface Metric enter "15"
Save the settings, return to the Network tab for IPv6
7
Change IPv6 settings
In tab Network select IPv6 and open Properties
Click advanced
Uncheck Automatic Metric
In field Interface Metric enter "15"
Save the settings
8
Done
Start the VPN connection
You should now be able to reach the server by name