Authenticated Wifi - Windows 8.1
Microsoft has ceased security support for Windows 8.1 on 9 January 2018. This means that PCs running Windows 8.1 will no longer be safe to use.

Please contact your 1A partner to obtain a more recent operating system or a new PC.
This manual is for older systems and/or software and is no longer maintained.
This manual is meant for administrators of a domain with a 1A-server. Authenticated Wifi is available when you have the 1A-option "Managed Wifi".

In the 1A-manager, you can configure which persons are allowed to use their own credentials for using Wifi. You can do this by adding users to the group wifi. This process is described in the 1A-manager manual Authenticated Wifi.

Requirements
To complete this manual, you will need:

The 1A-option "Managed Wifi"
Your username and password
Membership of the configuration group wifi
The name of your wireless network (ask your 1A-manager in case of doubt)
Steps
1
Manage wireless networks
Click on the Networks icon in the lower right corner of the taskbar
The Networks screen will be opened on the right side of your screen

2
Select wireless network
Click on the name of the Wi-Fi network that you want to connect to


Note: in the screenshots the name "COMPANY" is used as an example

Check Connect automatically
Click the button Connect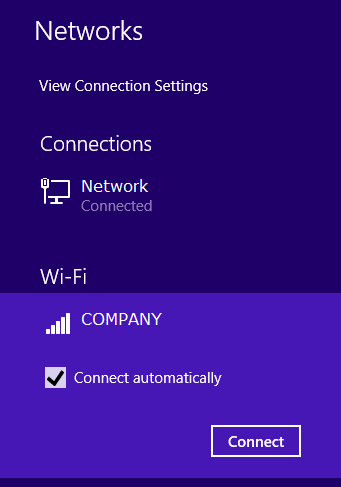 3
Negotiating settings
Windows will negotiate which settings are needed to connect with the wireless network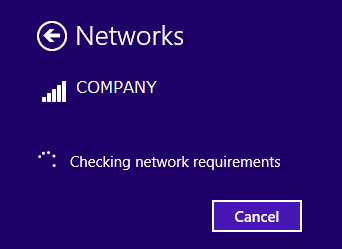 4
Enter credentials
Enter your username and password
Click OK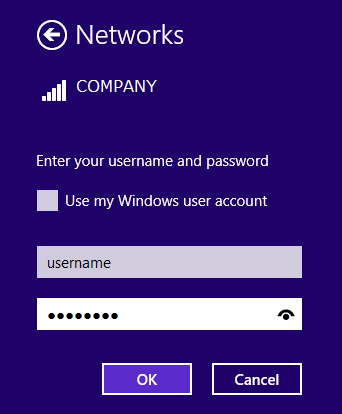 5
Connecting to the network
Windows will now authenticate and connect you to the network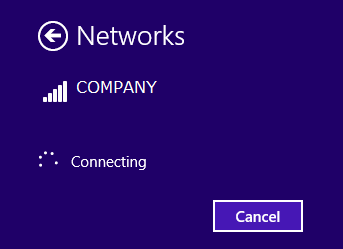 6
Connected with the network
You are now connected with the wireless network