Authenticated Wifi
This manual is meant for administrators of a 1A-server. Authenticated Wifi is available when you have the 1A-option "Managed Wifi".

In the 1A-manager, you can configure which persons are allowed to use their own credentials for using Wifi. You can do this by adding users to the group wifi.

Configuring a wireless connection is described in the Domain Administrator manual Authenticated Wifi.

Requirements
To complete this manual, you will need:

The 1A-option "Managed Wifi"
A computer connected to your 1A-server
A username and password for the 1A-manager
Steps
1
Go to the configuration group "wifi"
Go to essentials → groups
Click on the configuration group wifi
2
Add users
Select one or more users in the left column (keep the CTRL key pressed to select multiple users)
Click on the grey button with the arrows in it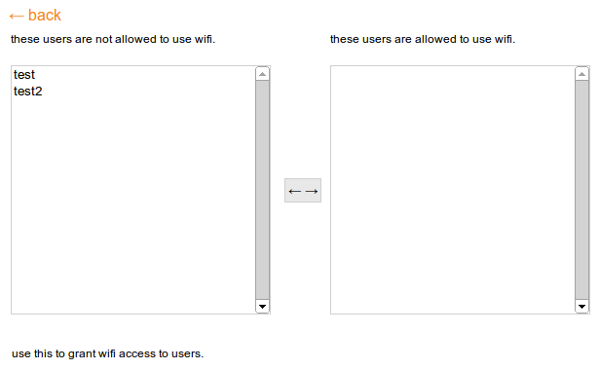 3
Remove users
Select one or more users in the right column (keep the CTRL key pressed to select multiple users)
Click on the grey button with the arrows in it