Backup (Online Backup) - Restore
Online Backup is a subscription service offered by 1A First Alternative with which you can backup your valuable files safely to an external location. At set times the files will be sent to a backup server automatically, where they are compressed, encrypted and stored. If disaster strikes your server, your data remains safe.

Online Backup is not just for calamities. You can also restore older versions of a file or folder from the retention area with the 1A-manager. This makes Online Backup an archive as well. Only the changes are stored; files that don't change will not take up extra space. The more often your files change, the more space the backup will cost.

For example: if you have a retention of 90 days, you can restore previous versions up to 90 days ago.

This manual describes how to restore files.

Other backup solutions on the 1A-server are Tape and Rsnapshot.

Requirements
To complete this manual, you will need:

A computer connected to your 1A-server
A username and password for the 1A-manager
Steps
1
Open the online backup module
Go to backup → onlinebackup

2
Restore files
Click select files
Choose the date of the files and/or folders which you want to restore
Choose the files and/or folders which you want to restore
Verify your restore job at the overview selected
Click start restore
Choose the destination share
Choose a folder in the share by selecting the bullet in front of it
Click restore now
Open the share the regular way. Files are restored to a subfolder with the name of the backup job and the time of the backup (for example restore_BackupSet-0_2011-03-13 23.49.06)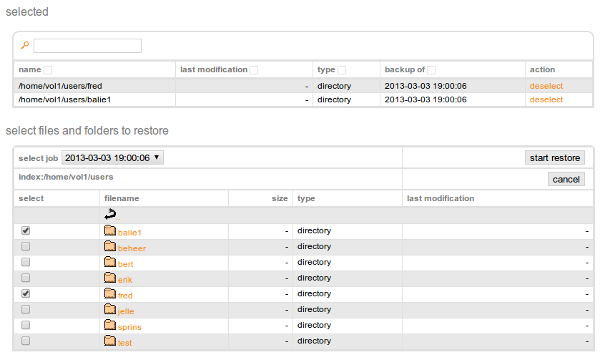 3
View log of restored files
Click restore log
Click in the columnlogfile for the job you want to view

4
Remove log of restored files
Click restore log
Click on remove at the log you want to remove