VoIP: using the Phonetool - Tab global
This manual is intended for 1A telephony users. This manual explains how to log in on the Phonetool and a phone. When you are logged in on both, you can start a new call with the phonetool.

1A-telephony consists of the 1A VoIP module (the telephone exchange) and a number of SIP phones (phones suitable for VoIP). Every user can manage his/her personal settings with the Phonetool.

The general settings for 1A-telephony are controlled by your own 1A administrator (see the manual Telephony for the 1A-manager). For more information about daily use of 1A telephony, see the manual VoIP: daily use. For an overview of the shortcuts which you can use, see the manual VoIP: summary. For a detailed overview of the Phonetool, see VoIP: Phonetool.


Requirements
To complete this manual, you will need:

Telephony on your 1A-server. No telephony yet? Please contact your 1A-partner.
A computer with the Phonetool installed (this is done automatically on Windows computers in the company network)
A SIP phone connected to the 1A-server
Your username and password
Your user number for telephony (if unknown, ask your 1A administrator)
Steps
1
Log in on the Phonetool and your telephone
Follow the steps in the manual Login
2
Using the 'Telephone' tab
who-am-i: contains a logout-button, the number of your phone and your user number
quickdial: use this to start calls directly from the Phonetool. Paste or type a number in the text field and click the phone icon. The select list determines which line
navigation and refresh: the tabs of the Phonetool and the refresh indicator
apply notification messages: here you can configure the notification messages to be userd
record message: enter a name in the text field and click opnemen. Your phone rings: answer it. Now you can record the new message.
manage messages: here you can overwrite existing messages. Klik op het icoon voor de meldtekst. Your phone rings: answer it. Now you can record the new message.
overview of time settings: overview of the configured office hours
callgroup settings: here you can configure callgroups
hotline: here you can download and remove the hotline configuration and also upload a new version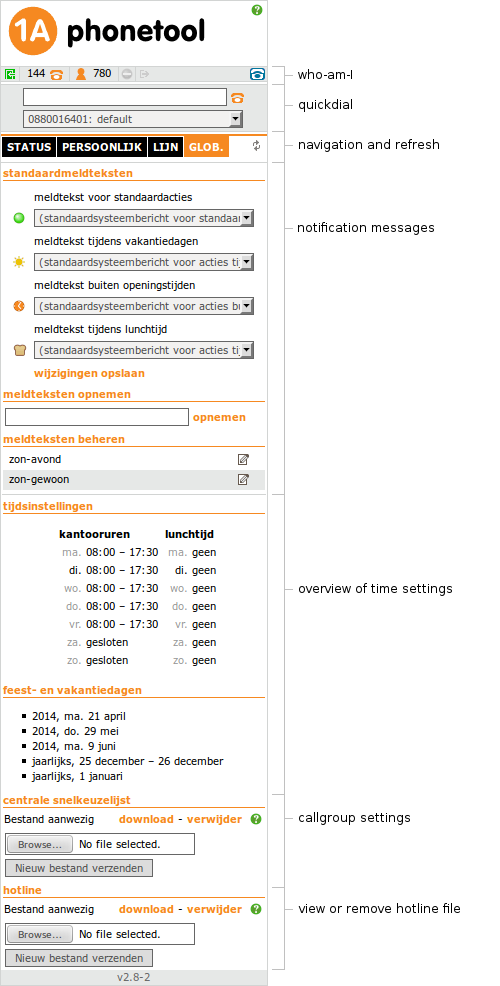 3
Using the Phonetool
When you are logged in to a phone, you can receive calls on both your own user number and the phone's own number. After logging in, the phone exchange knows to which phone to forward calls for your user number. If you often change desks, it can be convenient to have people call you on your user number, since it moves along with you when you log in to a different phone.
Read more about the Status tab
Read more about the Personal tab
Read more about the Line tab
4
Calling from the Phonetool to an external number
Go to the section quickdial
If so desired, choose the outgoing line with which you want to call
Enter the number you want to call in the text field
Press <ENTER> on your keyboard or click the orange telephone icon to make the call
Your own phone will ring: pick up
The call will now be made
5
Creating message texts
Go to "meldteksten opnemen"
Enter a name
Click "opnemen"
Your phone will ring, answer it
You will now be guided by a voice menu
6
Changing message texts
Go to "meldteksten beheren"
Click on the message text you wish to change
Your phone will ring, answer it
You will now be guided by a voice menu