Install Thunderbird with SOGo
This manual is meant for users of SOGo Groupware on the 1A-server. It explains how you can connect SOGo to Thunderbird, the free Open Source Groupware client.

Requirements
To complete this manual, you will need:

Your email address
Your mail domain (everything behind the @ in your email address)
Your user name
Your password
Steps
1
Download and install Thunderbird
2
Download the SOGo Integrator
Browse to the Server Info page of your 1A-server
Right-click the link to the "SOGo Integrator"
Choose "Save As"
Save "sogo-integrator.xpi" to your Downloads folder
The other required add-ons will be automatically downloaded during the installation of SOGo Integrator in step 7.
3
Start Thunderbird for the first time
Start Thunderbird
Choose to use Thunderbird as your default e-mail application
At "Would you like a new email address" click on Skip this and use my existing email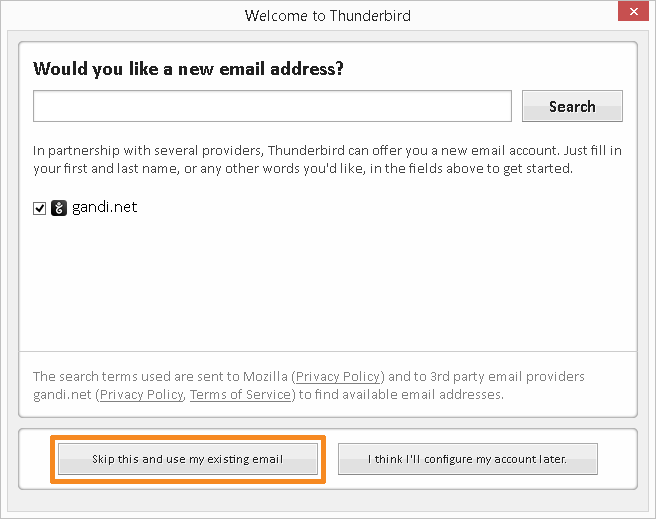 4
Configure your email account (1)
Enter your name
At "Email address" do NOT enter your email address, but instead enter your user name followed by an @ and then your mail domain, for example user_name@mail_domain.com
Enter your password
Click Continue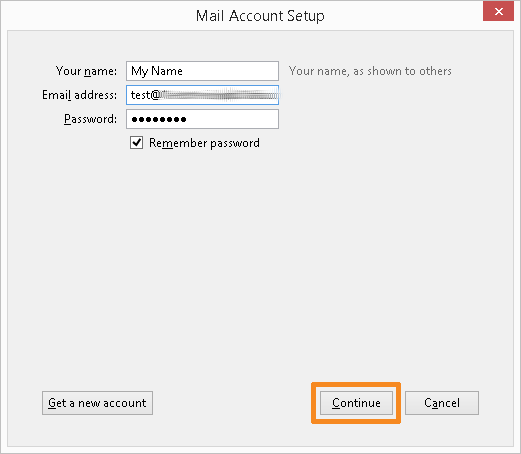 5
Configure your email account (2)
Wait until the screen is done
Click Done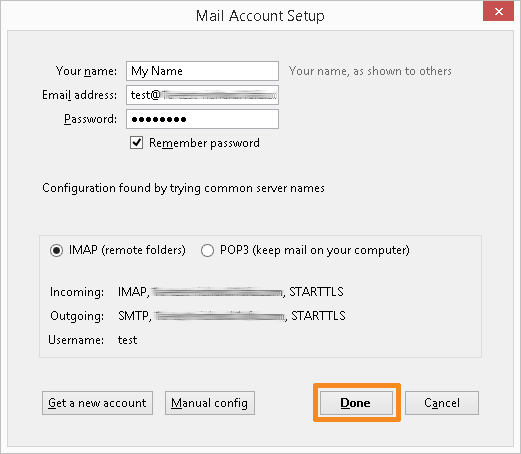 6
Stel uw e-mailaccount in (3)
Click on your newly added email account
If your email address differs, change "Account Name" and "Email Address" to the correct value
Click OK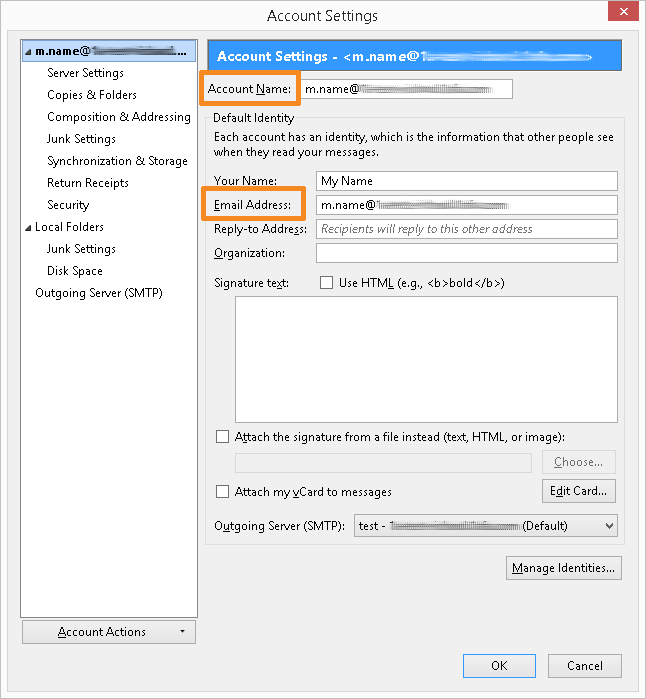 7
Open the Add-ons Manager
Open the menu (next to the search field)
Click Add-ons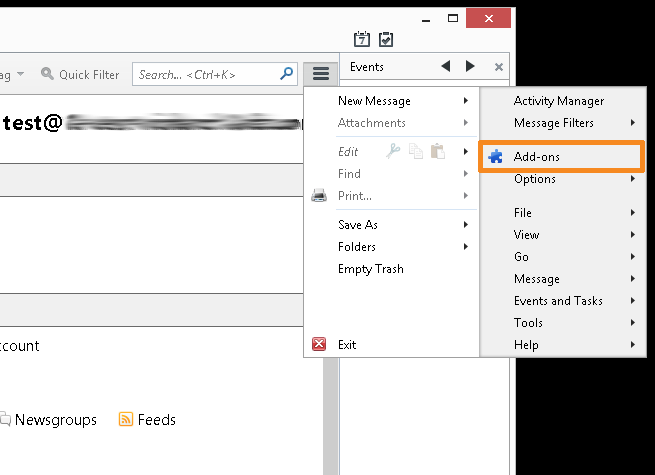 8
Install the SOGo Integrator
Drag "sogo-integrator.xpi" from your Downloads folder to the blue puzzle piece (Extensions) and release your mouse button
Click Install Now
Click Restart Now
The other required add-ons will now be automatically installed.
Thunderbird will require to be restarted again.
When asked, enter your password and click OK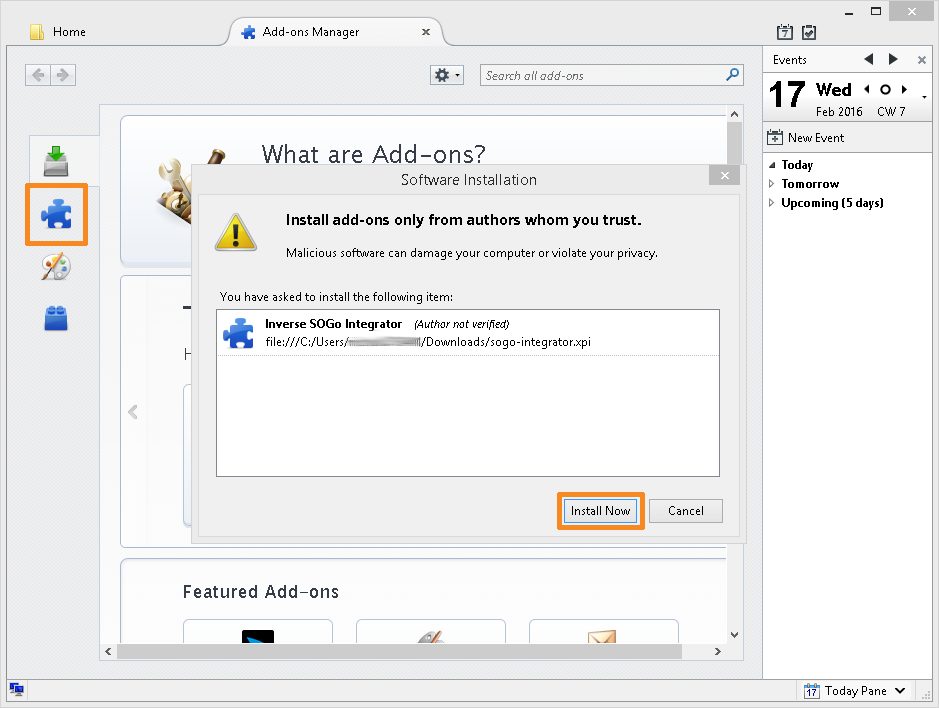 9
Conclusion
Close the tab "Add-ons Manager"
At the bottom, click on Keep on the message regarding the Lightning add-on
Click the two icons at the top right
The tabs "Calendar" and "Tasks" have now been opened.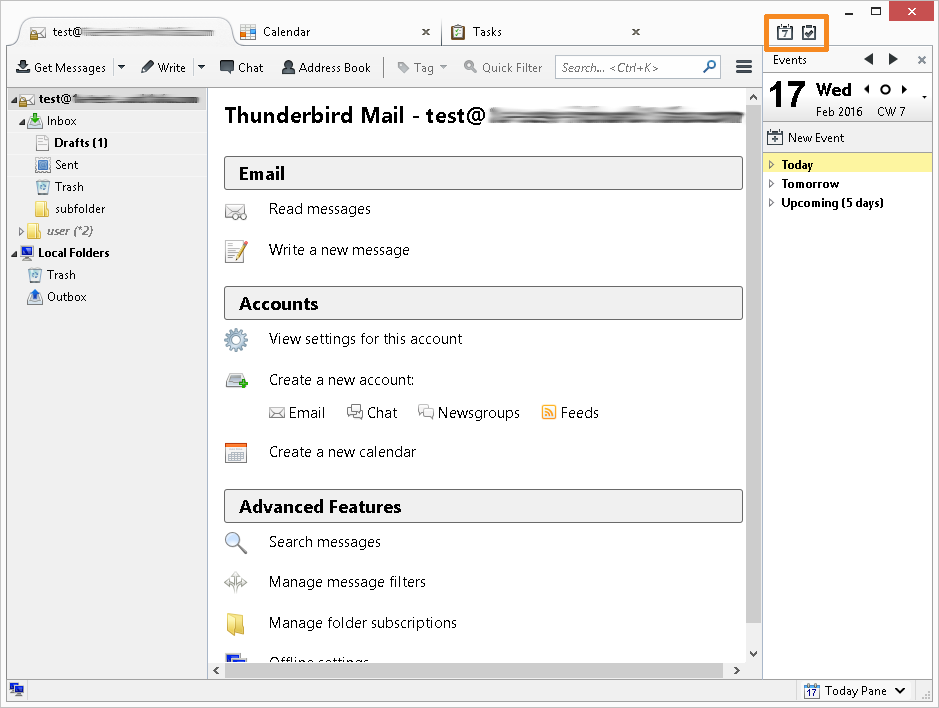 Troubleshooting
1
Manually configuring the IMAP server (incoming mail)
Servername: The Serveradress of your 1A-server, see Server Info
Port: 993 , this is de standard-port for secure IMAP-connections
Connection security: SSL/TLS
Username: The username of the user who will use this account

2
Manually configuring the Outgoing mailserver
Servername: The Serveradress of your 1A-server, see Server Info
Port: 465 , this is the standard-port for authenticated SMTP-connections
Connection security: SSL/TLS
Username: The username of the user who will use this account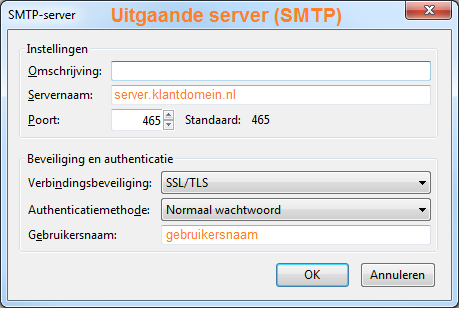 3
Manually configuring the default folders
It can happen that the default folders are incorrect, for example after a migration from another mail system. In "Copies & Folders" these folders can be assigned with the option Other.

At the desired folder, select Other
Select the proper folder
Click OK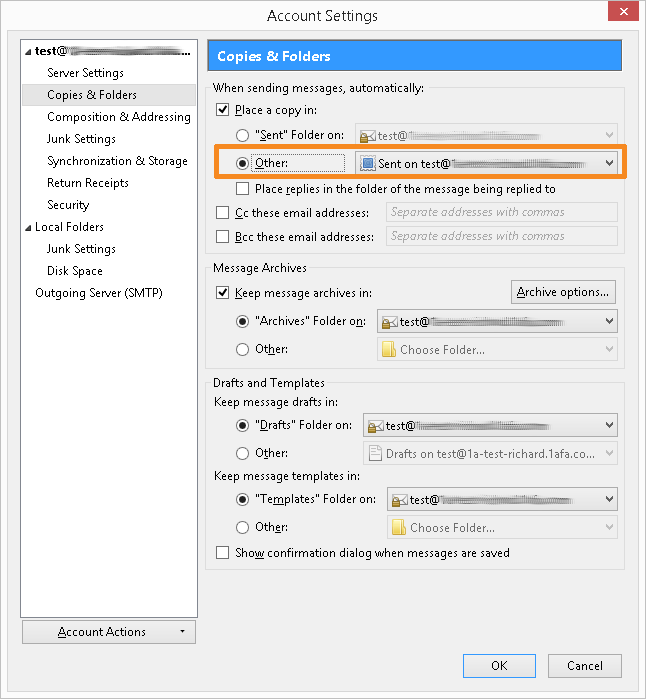 4
Not all folders are shown
It can happen that not all folders are subscribed. The easiest solution is to configure that all maps must be shown.

Open Account Settings
Go to Server Settings
Click Advanced...
Uncheck Show only subscribed folders
Click OK (2x)